Our Services
At S.D. Howells we have all the necessary skills in-house to carry out the most complex projects, including drainage, roofing and finishing touches. We're pleased to offer the following services to our clients:
New Build Housing
From consulting on suitability of land, through the planning process to construction and second fix, our team will be able to help. We're experienced in building houses and bungalows and have our own craftsmen, as well as being able to call on a qualified architect and knowledge of the local planning consent process.
Loft Conversions
Creating an additional bedroom or office in the roof makes use of redundant space. Such projects might involve the installation of Velux and dormer windows and staircases, as well as extending the heating and plumbing for a touch of luxury with an en suite bathroom.
Extensions
Moving house is a costly process, meaning that adding an extension to your home is increasingly popular option. We will build single-storey additions, such as a kitchen extension or conservatory and garden room, or two-storey extensions to provide additional bedrooms or an en suite bathroom.
Internal Alterations
Often it makes sense to alter the arrangement of the internal space in a property to make it more usable. We can remove internal walls, opening up greater spaces and making them more versatile. Installing skylights and folding glass doors brings the garden indoors and fills the new room with light. Add new flooring, fitted units and soft furnishings and you won't remember what it was like before.
Roofing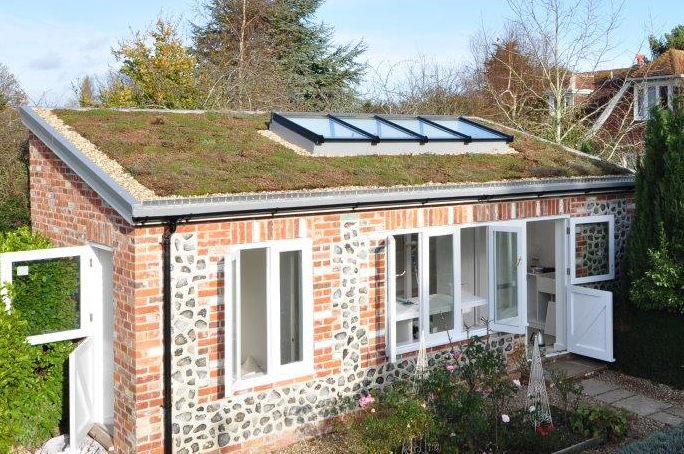 The importance of maintaining a sound, water-tight roof over your head can't be over-emphasised. We're able to replace or renovate all kinds of pitched and flat roofing, including the latest technology and living 'green' roofing. We can match stone, slate, concrete or pantiles, including reclaimed materials.
Brickwork
This is Simon's speciality, as he started as a brickie, and he still likes to see a nice bit of bricklaying! We repair or rebuild garden walls and other brickwork, also using materials such as stone, flint and nine-inch specialist bricks.
Driveways
We recognise the importance of drainage issues and are qualified to install Aco slot drainage to prevent flooding or run-off issues. We can provide traditional tarmac or block-paving drives, as well as stone paving, which is gaining in popularity, due to relatively low maintenance requirements.
Wine Cellars
We have both the knowledge and the contacts to provide the ultimate addition to your home, should you so desire.
For further information or a no-obligation discussion of your project contact us info@sdhowellsbuilders.co.uk or phone 01243 376299.